Italian language courses for absolute beginners in Florence
The easy way to learn, understand and speak well the Italian language from scratch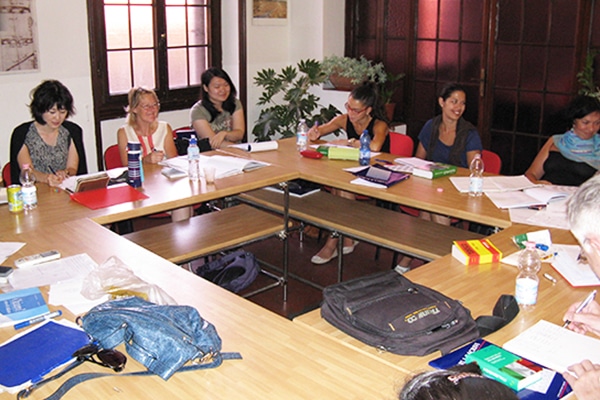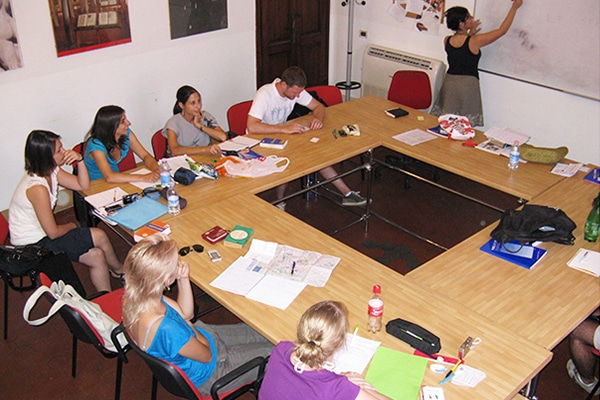 Basic Italian, an Italian course for beginners in Florence, Italy.
Learn Italian from scratch in a practical, easy and fun way, to gain quick results with our Italian language courses for beginners.
Next starting date of Italian courses for beginners: October 2nd
How to understand and speak Italian
Taking a language course in the country where the language is spoken is surely the best way to learn it and improve it, because you are able to live it and practice it every day in the surrounding environment, with Italian people and the other students of the school, coming from all over the world. Learning while visiting the beauty of Florence is even better and much more fun.
If you never studied Italian before, we will help you understand, speak, read and write in Italian, so that you can communicate with confidence with other people in your social or work relationships.
Already after the first few days you will realize that you can understand easy sentences and you will be able to ask questions for daily use, and at the end of your course you will be happily surprised by the progress you made since your first day at school.
The Common European Framework of reference for languages
The Italian course for beginners corresponds to the basic level (A1) of the common European framework of reference for languages. It is the first of six levels.
A1 Level: Understands and uses everyday expressions and basic sentences to satisfy real needs. Can introduce him/herself and others and can ask and answer questions about personal details such as where he/she lives, people he/she knows and things he/she has. There is simple interaction, as long as one of the two people speaks slowly and is clearly willing to cooperate.
When you should begin your course and for how long
You can attend your course in any period of the year because the school is always open except for 2-3 weeks between December and January, but you have to begin on one of the fixed starting dates (usually Monday every two weeks). See here.
It is possible to attend from a minimum of 1 week to a maximum of 1 year. Obviously, the longer you attend, the bigger will be the results.
Which type of course you should attend
The choice of the course depends on the duration of your stay in Florence, on your needs, and on your goals, it is therefore a completely individual choice.
According to our experience, we recommend a course of at least 4 hours per day / 20 per week (our standard course), which will allow you to learn both the grammar rules and your oral comprehension and speaking skills well.
If you plan to stay for a short time (1-3 weeks), we suggest our intensive course of 6 hours per day; thanks to the two additional hours in the afternoon of this course, you will learn more and faster.
If you want the best results in the shortest time possible, we suggest our super-intensive courses (Combined A, B or C), which are made of group classes in the morning, and individual classes in the afternoon. Clearly, the more intensive the course is, the sooner you will reach the next level, elementary (A2).
If you have no possibility to come to Florence, you can also attend our private online lessons, during which one of our teachers will be at your complete disposal. You can decide days, schedule and the total number of your lessons.
Course and lessons
The course is held from Monday to Friday in the building of the school, located in the center of Florence.
Lessons are held by mother tongue and graduated teachers, dynamic and engaging. Group games, role plays and real life simulations are very frequent activities.
The teachers follow each student individually with great attention, patience and helpfulness, so that all students' progresses are significant and constant. Plus, the teacher understands each student's interests in order to propose stimulating and always new subjects.
Details
The course begins with the presentation of teacher and students, in order to create a friendly and relaxed environment from the very start. Getting to know your classmates is very important because, besides your commitment in learning and the guidance of your teachers, it is with them that you will learn and improve your Italian.
Lessons are carried out with a mainly communicative method, but also grammar rules and structure are explained since they are important to begin building easy sentences in a correct and flawless way. After the explanation of the grammar rule with the help of the school book, the teacher proposes written exercises that are later revised and corrected. Easy readings with questions and written answers are also proposed, in order to fix the rule comprehension, learning new words and enriching the student's vocabulary.
Lessons go on with the conversation class where the teacher proposes daily life subjects with easy dialogues and stories, paying particular attention to the specific vocabulary, to the comprehension and to the correct pronunciation of each student, encouraging them to talk to each other, and correcting possible mistakes.
Attending a course in our school will allow you to:
– understand and speak real Italian in a short time
– get to know the rich Italian culture by living it
– make new friends with Italian people and students from all over the world
– have fun with our activities
– admire art and architecture beauties of Florence
– taste the real Italian cuisine
– live an unforgettable experience!